No European Vacation For These Angels
With a second album waiting in the wings, and a recent appearance at Trackside Music Festival under their belts, the country queens of Runaway Angel are ready and waiting for the next big thing.
Now, the trio has taken off to Europe, eager to put their mark on the emerging country scene overseas.
And there may or may not be a castle involved.
"It's called Gram Castle, so we're assuming it's a castle. It might just be an intersection," Stacey Zegers explained with a laugh. "Either way, we're really excited."
The group touched down in Germany July 24, ready to make the festival rounds, including stops in the Netherlands and Denmark, as well.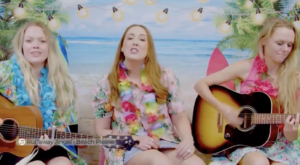 CHCH Morning Live with Runaway Angel Runaway Angel is back and bolder than ever. For
Read More »