Daily Inspiration: Runaway Angel
Today we'd like to introduce you to Runaway Angel.
Hello Runaway Angel. We're thrilled to have a chance to learn your story today. So, before we get into specifics, maybe you can briefly walk us through how you got to where you are today.
Hi, we're Stacey, Ann, and Cadence, and we make up the country trio Runaway Angel.
In 2013, we were all solo artists and friends based on Ontario, and we were starting to lose a bit of our love for music because the administrative aspects of owning a business were taking away from our time to be creative. Stacey eventually convinced us all to join forces and start a band together so we could share the workload as well as share the special moments with other people, and that's how Runaway Angel began.
Since 2013, we've released two albums, 7 radio singles, toured Canada and Europe, and had multiple placements in film and television. In 2018, we took a 4-year break when Cadence was diagnosed with Leukaemia. When her treatments were unsuccessful, she ultimately had a life-saving bone marrow transplant in 2019. While her recovery took longer than we all expected, we are so grateful to have another chance to make music together and start this next chapter. Cadence has a place in Nashville now and splits her time between there and Canada and we wrote our latest single 'Beach Please' with Kate Malone while we were down there in January.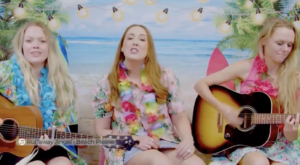 CHCH Morning Live with Runaway Angel Runaway Angel is
Read More »