Ontario-Based All-Female Country Trio Runaway Angel Share Thoughts On New Single "Beach Please" + More
Ontario-based all-female country trio Runaway Angel recently relesed their new single "Beach Please" on May 26th, the first new release since group member Cadence Grace was diagnosed with leukemia in 2018. This single release also marks Runaway Angel's tenth anniversary as a group.
Since Runaway Angel's formation in 2013, the women have been 2016 CCMA Discovery Artist nominees and celebrated 7 Country Music Association of Ontario nominations, two iTunes Canadian Country Top 5 charting albums, and a previous Top 50 Canadian radio hit "(Witness"). They have also toured Canada and Europe.
Following Cadence's courageous journey – which included a personal blog, a life-saving bone marrow transplant, receiving the Extraordinary CML Story Award at the 2019 Chronic Myeloid Leukemia Network Conference, and earning the Country Music Association of Ontario's Holly and Steve Kassay Generous Spirit Award – she and her fellow Runaway Angel members (Ann Chaplin and Stacey Zegers) have emerged stronger than ever. They're also newly-signed to RÊVE MUSIC.
Co-written in Nashville with Kate Linné Malone, "Beach Please" is a sunny prelude to brighter times ahead and it's the start of Runaway Angel's next chapter.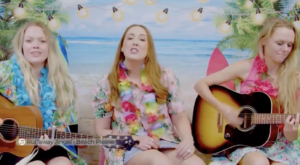 CHCH Morning Live with Runaway Angel Runaway Angel
Read More »