Interview With Runaway Angel
We had the pleasure of interviewing Runaway Angel, and here's what they had to say:
Q: What was your creative process for "Beach Please"?
RUNAWAY ANGEL: This writing session was a bit outside of our normal process. We had never met Kate Malone before but we knew she was an excellent producer. We had a good chat and she played us some fun beats/tracks that she thought could be solid building blocks for a song. Usually we do not write to tracks, but we know it's very common and we instantly felt inspired by that great bass line you hear in "Beach Please".We were INTENT on writing a beach song because we had never committed to one before. While we were throwing around ideas, Ann jokingly said "Beach Please", and the rest is history!
READ THE REST OF THE INTERVIEW ON MUSIC & FASHION BLOG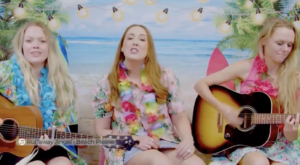 CHCH Morning Live with Runaway Angel Runaway Angel is back and bolder than ever. For
Read More »