Runaway Angel Returns with Infectious Summer Anthem "Beach Please"
Canadian country trio Runaway Angel is back with a bang, releasing their highly anticipated single, "Beach Please". 
This energetic and sun-kissed track marks a significant milestone for the trio … it's their first release since lead singer Cadence Grace's battle with leukemia. 
With a renewed sense of purpose and a bolder emphasis on authenticity, Runaway Angel is ready to make waves in the music industry once again. 
READ FULL ARTICLE ON FRONT PORCH MUSIC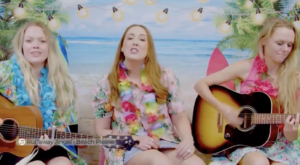 CHCH Morning Live with Runaway Angel Runaway Angel is back and bolder than ever. For nearly a decade, CCMA Discovery Artist Nominees Stacey Zegers, Ann
Read More »