Exclusive Premiere: Stream Runaway Angel's Sun-Kissed New Single "Beach Please"
Canadian country music trio Runaway Angel are back with their fun, sun-kissed new single "Beach Please". Stream it below!
Co-written in Nashville with Kate Linné Malone (Sam Hunt, Parker Graye) and produced by Adam Newcomb (Jesse Slack, Lydia Sutherland), "Beach Please" is a sun-kissed country-pop bop filled with summer fun, and catchy grooves.
Cadence Grace says, "We were ready to write a fun 'beach' song. When Kate played us this cool beat and bass line, we loved it and Ann jokingly said, 'Beach Please'. It stuck, so we started piecing together a vision and it led to a track that we feel will make people laugh, smile, sing and dance."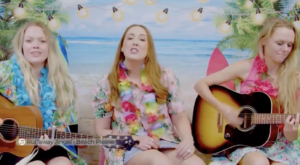 CHCH Morning Live with Runaway Angel Runaway Angel is back and bolder than ever. For nearly a decade, CCMA Discovery Artist Nominees Stacey Zegers, Ann
Read More »